Do you also enjoy learning new things?
Business Process Management is a very broad and dynamic field of studies.
The good thing is that you can always search for inspiration outside your main domain to become better at what you do.
The bad thing is that often it is pretty hard to find time to learn during the working hours and it is not always easy to get approval for the training cost.
And this is where MOOCs come in handy.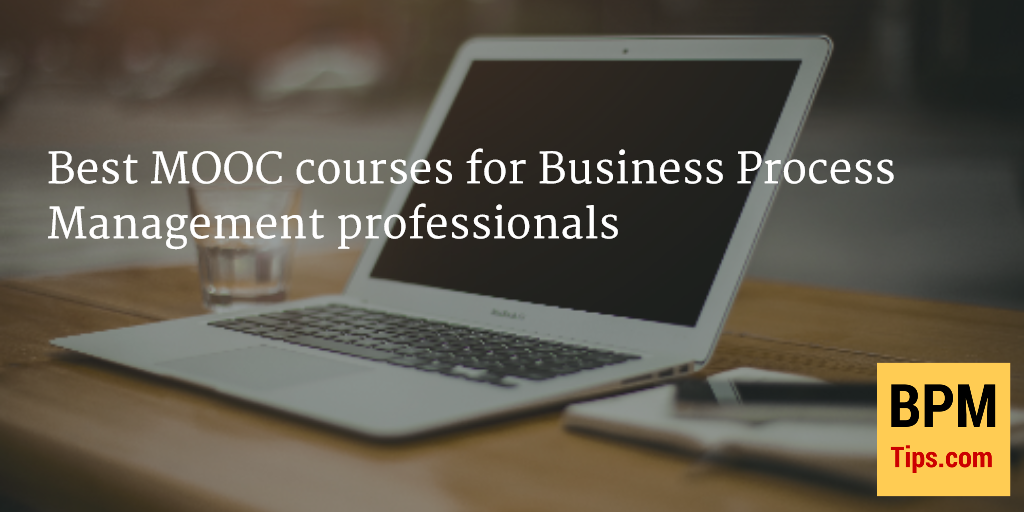 Massive Open Online Courses allow you to learn new things in a way which fits your schedule. They are often organized by best educational institutions/experts in the world. And did I mention they are free? If you want to learn more about MOOCs there is a BPTrends article on this topic.
Below you can find list of the BPM-related courses that I participated in (and recommend) or the ones I am currently signed up for. For all of them you can sign up now and learn new BPM skills in 2015.
To make it easier for you to select proper MOOC I asked the course authors to answer the following question:
"Who should participate in this course and what are the key takeaways?"
Fundamentals of BPM
Authors: Marcello La Rosa, Marlon Dumas (Queensland University of Technology)
URL: https://moocs.qut.edu.au/learn/fundamentals-of-bpm-october-2015
The "Fundamentals of BPM" MOOC is the first course that offers a comprehensive overview of the BPM lifecycle, from process identification all the way to process monitoring and mining, covering along the way process discovery, analysis, redesign and automation. It's open to anyone who has an interest in improving organizational performance. It will be useful to those who have already worked in BPM and would like to consolidate and expand their learnings. But given that no prior knowledge is required, this course also provides a great learning opportunity for those professionals and students who are new to BPM. This is achieved by combining a gentle introduction to the subject with more advanced topics that deepen the content. Last but not least, the variety of learning media (short videos, interactive activities, quizzes, readings, interviews, project work) will ensure following this MOOC is fun!

Concretely, through this course you will learn:

– How to prioritize business processes

– How to design the right process model for a given purpose

– How to combine qualitative and quantitative analysis methods

– How to spot issues in a process from ten miles away

– How to turn around the process to make the most out of automation

– How to make process execution data speak out for itself
Process Mining: Data science in Action
The course is intended for anyone interested in Data Science and Business Process Management, i.e., the analysis of operational processes based on factual data. There is a need for Data Scientists that look beyond the data and see that the key issue is to analyze and improve processes.  Process mining is an essential tool for any data scientist. Moreover, Business Process Management experts need to consider the data in a process-oriented way. If not they will become dinosaurs …

In daily life many events are being recorded, e.g., ordering a book, making a phone call, checking in and taking a medical test. This provides an amazing source of information that can be turned into valuable insights using process mining. Process mining can be used to automatically learn behavioral models that show what people and organizations really do. The hype around Big Data is too much focused on the "data" (storage and processing) and not on the "processes" that we would like to learn and improve. The course "Process Mining: Data science in Action" offers a novel perspective on data (Big or Small) and provides the tools necessary to start analyzing real behavior based on event data that we can find in any organization.

The course explains the key analysis techniques in process mining. Participants will learn various process discovery algorithms. These can be used to automatically learn process models from raw event data. Various other process analysis techniques that use event data will be presented. Moreover, the course will provide easy-to-use software, real-life data sets, and practical skills to directly apply the theory in a variety of application domains.
Introduction to Operations Management
Business MOOCs are for everybody who has an interest in getting access to the educational content from the top b-schools, but, be it because of cost, time, or location, is not able to enroll for a residential, on-campus program.

What did you want the last time you went to a restaurant? You wanted to find something on the menu that you liked, you wanted the meal to be prepared according to high quality standards, you wanted to get it quickly, and you didn't want to pay too much money for it. Now, remember the last time you went to a doctor's office or a hospital. What did you want the doctors and nurses to do? You wanted them to provide the right care for you, you wanted the care delivered with great quality, you wanted to get the care quickly, and you (or your insurance) didn't want to pay too much for it.

The management skills needed to run the operations of a restaurant are the same needed to run a hospital. You will learn these skills in this course. Specifically, you will learn how to improve productivity, increase responsiveness, provide more choice to the customer, and deliver higher quality standards. In short, you will learn how to analyze business processes and how to improve them.
Introduction to Lean Sigma Quality
Author: Brian Coll, John Donovan (
IT Sligo
)
This free six week course in Lean Sigma Quality is recommended for all those in an organisation who are involved in business improvement projects to reduce costs and improve quality. It is suitable for managers, change agents, project managers, team leaders and team members who may be involved in Six Sigma projects.

Lean Sigma Quality is the foremost quality process improvement approach for companies in the manufacturing and service industries. Lean Six Sigma has been around for more than two decades and since then it has been embraced by leading global companies in the manufacturing and service industries. It has become the leading process improvement approach for organisations that wish to attain world class performance in quality and customer satisfaction. The tools and techniques are now expanding to the healthcare and government sectors where benefits have been achieved in productivity, efficiency and elimination of 'waste' – a term used in Lean Sigma quality which refers to anything that does not add value to the product or service.
Do you have other favorite BPM-related MOOCs? Comment and share with others!