Creating a good process architecture from scratch can be very time consuming. Fortunately there are resources you can use to speed up the process and avoid reinventing the wheel.
One of my favorite resources I recommend to people asking me about process modeling is the Process Classification Framework from APQC.
Since it was just recently updated to version 7.0 I decided to create a post about it.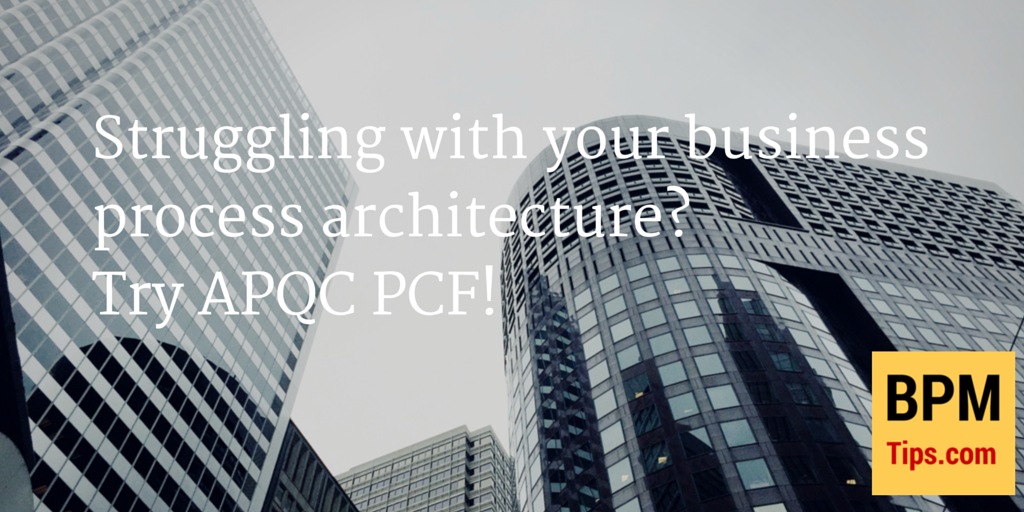 What is it?
It is a process framework which helps you create a process architecture. There are 13 process categories decomposed into process groups, processes, activities and tasks.
Many PCF elements come with descriptions which helps you create standard definitions in your organization. Additionally there are also suggested metrics, so that you do not need to invent KPIs on your own (APQC also offers benchmarking data).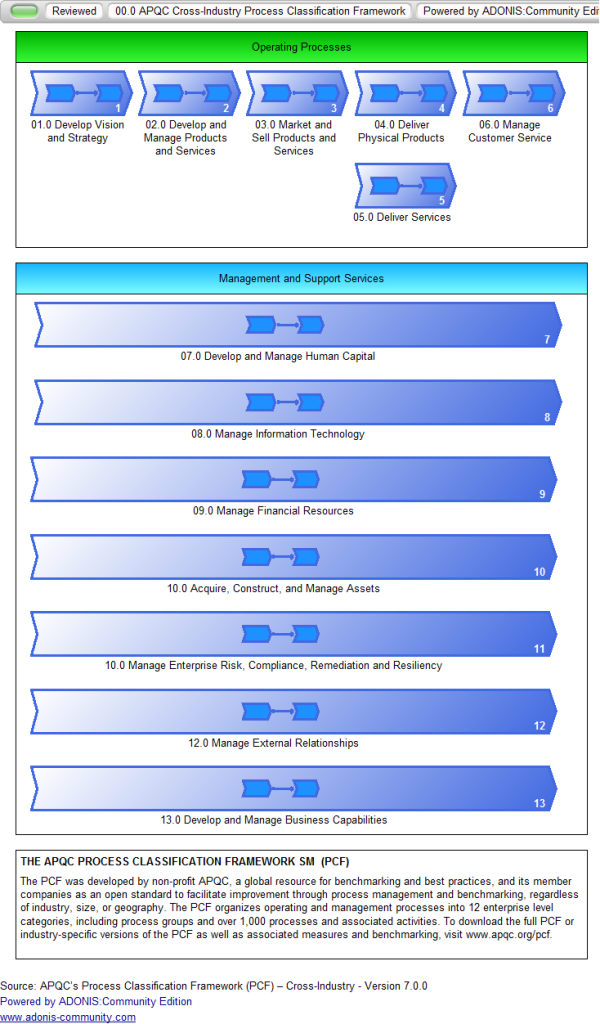 Who is behind it?
PCF is provided by APQC. Using their own words:
APQC is a member-based nonprofit and one of the world's leading proponents of business benchmarking, best practices, and knowledge management research.
When should you consider it?
I suggest PCF to organizations starting with BPM projects which jump directly to BPMN modeling without creating some process architecture first. PCF allows them to figure out which processes do they want to include, what are the possible related processes etc.
Second most useful usage in my opinion is starting with PCF to build common process definitions (e.g. scope).
But there many more ways you can use PCF – if you want to learn more there is a great article on BP Trends "Do Organizations Use Process Frameworks to Their Full Potential?" by Holly Lyke-Ho-Gland (@hlykehogland)
How does it help?
It saves you lots of time 🙂
Of course you can create a process architecture on your own, but why reinvent the wheel when you can start with the tested framework?
Why is it interesting?
It is available for free with very reasonable licensing terms (personal note: some time ago I created free models for ADONIS:Community Edition on a basis of APQC PCF and was amazed by how supportive were the APQC guys).
Apart from the generic cross-industry version there are also many industry specific versions: from Aerospace and Defense to Utilities.
As I already mentioned you get not only list of hierarchical process architecture elements (over 1000!), but also descriptions for some of them. Since it is possible you may want to play a bit with process names each element has unique ID, so that you can still do comparisons without trying to figure out which processes are the same.
PCF also contains list of KPIs, so you can use them for your processes instead of inventing them on your own. This is of course very helpful if you want to do the benchmarking.
Where can you learn more?
General information about the PCF
List of all PCF versions (cross-industry and industry specific)
Article: "Do Organizations Use Process Frameworks to Their Full Potential?" by Holly Lyke-Ho-Gland (@hlykehogland)
Blog post about version 7.0: "Long Awaited PCF Updates Have Arrived" by John Tesmer (@johngtesmer)
You may also want to check APQC PCF models for ADONIS:CE. Please note they are for version 6.1, so there are still 12 categories.
If you enjoyed this post, sign up for free updates