When I was a kid I enjoyed reading about heroes and gods from Greek mythology (and now I work for a company offering BPM tool called ADONIS – is it a coincidence?).
One of my favorite was the one of Theseus who defeated the Minotaur. To do so he had to enter the dangerous Labyrinth created by Daedalus. He would not make it without help from Ariadne as she gave him instructions and the thread, so that he would not get lost.
Today many organizations venture into realm of Digital Transformation. They want to become heroes for their customers (i.e. create outstanding Customer Experience).
Some will be successful – even though their CEOs will probably not be immortalized in myths 🙂 Some will fail.
What will make the difference? Having some guidance on what to do and proper tools supporting the Digital Transformation.
Neil Ward-Dutton from MWD Advisors shares tips on how to weave the 'digital thread' through your operations, products and services to support new customer experiences.

Do you want to know how do the Digital Transformation, Customer Journey Mapping and BPM fit together? Listen to the interview!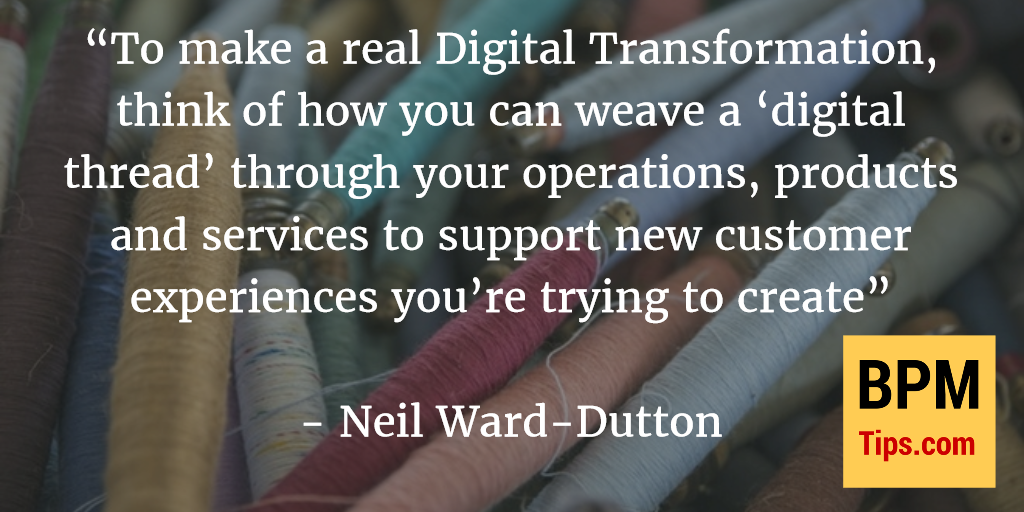 Quotes
"To make a real Digital Transformation, think of how you can weave a 'digital thread' through your operations, products and services to support new customer experiences you're trying to create"

"Customer Experience improvements [are] one of the things highest on the business agenda"

"We can't just compete on price and product, we have to compete also on customer experience"

"Great customer experiences need to be integrated"

"You need to make sure people at the front line have all the knowledge at their fingertips"

"Who should care about Customer Journey Mapping? Everybody!"

"Customer Journey Mapping is becoming increasingly important as organizations try to think about Customer Experience"

"What we really need to do is to start from where the customer is and think about the process that the customer goes through"

"Customer Journey Mapping is THE starting point for improving the customer experience"

"Only when you understand the process that customer goes through you have the context for making an improvement"

"Unless you understand the customer journeys you run the risk of trying to improve the wrong think"

"Only when you look at the whole journey you start to get the key insights"

"When you do the mapping, be very inclusive"
About Neil Ward-Dutton
Neil Ward-Dutton is MWD Advisors' co-founder and Research Director, and is one of Europe's most experienced and high-profile strategic business-technology advisors and industry analysts. His areas of expertise include digital transformation, business process management (BPM), enterprise architecture (EA) and IT strategy.
Neil acts as an advisor to large European organizations across industries and sectors as diverse as financial services, retail, utilities and government – as well as providing advice to a number of leading technology vendors.
Social Links
Linkedin https://uk.linkedin.com/in/neilwd
Twitter @neilwd
Resources mentioned in this episode
MWD Advisors site https://www.mwdadvisors.com
Free report "Customer Journey Mapping: What is it and why should I care?": https://www.mwdadvisors.com/2016/04/28/customer-journey-mapping-care
Premium report "Customer Journey Mapping: Unlocking the desire to change": https://www.mwdadvisors.com/2016/04/28/customer-journey-mapping-survey/