Since last post some things changed, so I prepared an update for you 🙂
As in the last edition it is clearly visible that cloud tools are very popular. However it is still possible to find standalone BPMN modelers – pretty commonly they are offered by vendors of the process automation/workflow software. Please note that while some tools mentioned below are simple diagramming tools, others are more advanced and allow you to do much more than create BPMN diagrams.
So, let's see what are the options:
Since several years ADONIS:CE is available for free in a cloud. Apart from BPMN diagrams you can also create process architectures, organigrams and make a comprehensive documentation containing not only interlinked processes forming a process architecture but also references to roles (using RACI approach), applications, documents, KPIs, risks and much more. Recently also free mobile application Ask ADONIS was added.
Academic edition is also available with DMN, simulation and teaching materials.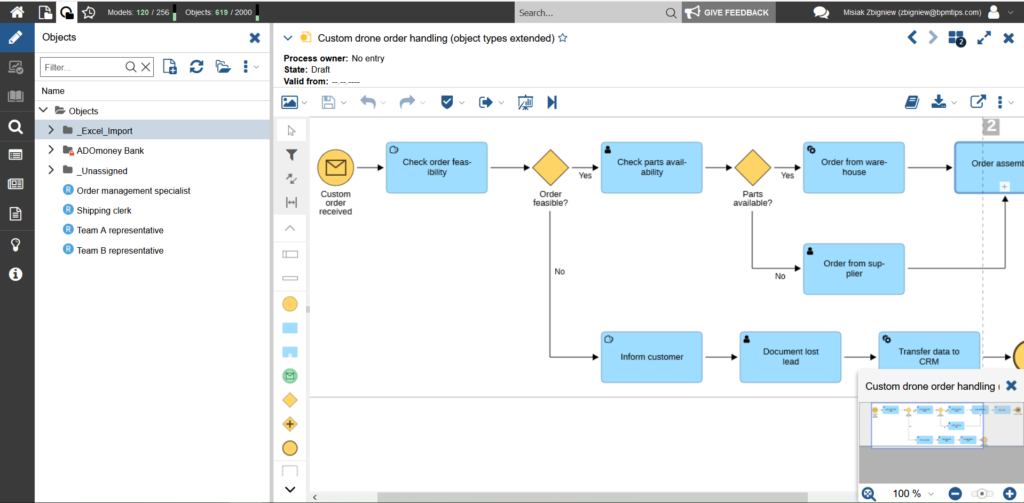 Bizagi offers unique approach to process modelling. It is a standalone (Windows) application, but also cloud "Modeler Services" are available in a freemium model. Free tier gives you unlimited models and diagrams and 10 MB of storage, while paid plans allow you to simulate processes, create process architecture, collaborate with others etc.
Since Bizagi is a process automation company it should not be a big surprise that you can use Bizagi Modeler to prepare automations. You start by modelling your processes in Bizagi Modeler, extend it with forms etc. in Bizagi Studio and finally automate it with Bizagi Automation.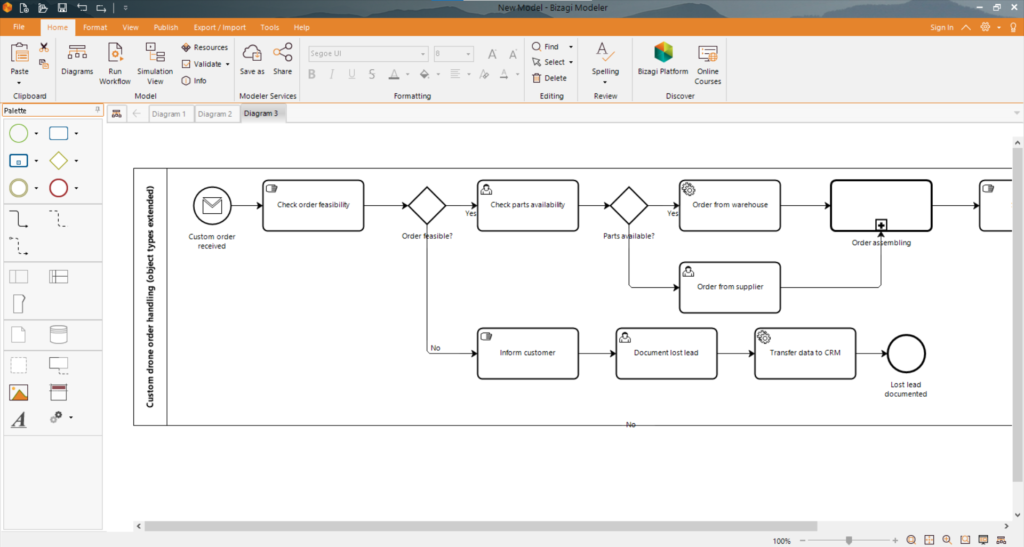 BPMN.io & family
This list would not be complete without BPMN.io and its siblings created by Camunda 🙂 They share many characteristics (as you will immediately see) such as possibility to create BPMN, DMN and CMMN diagrams, but have important differences.
BPMN.io is web-based modelling tool. You can use it without any registration, so I am often showing it to my students so that they can see how easily they can move BPMN diagrams between various tools (in my case I show how diagram created in BPMN.io can be saved as XML file and imported into ADONIS and vice versa).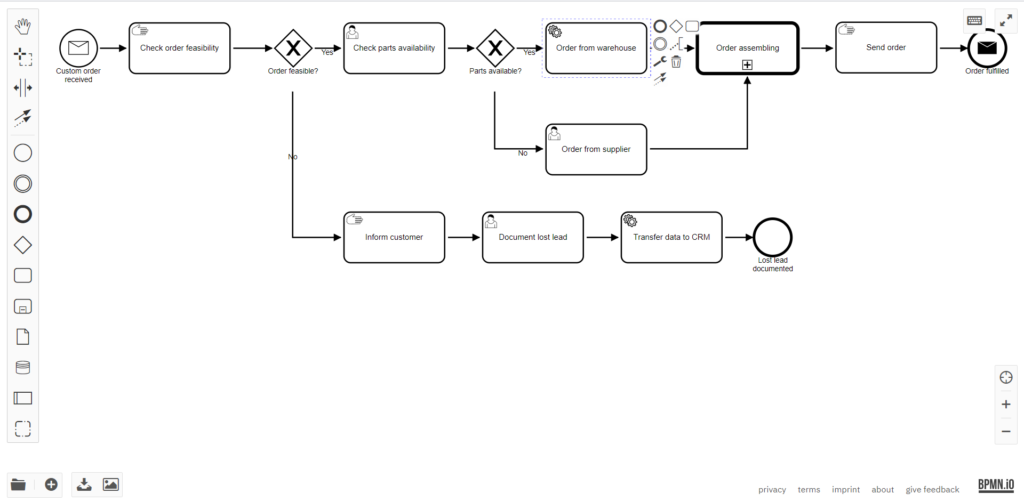 Camunda Modeler
This is a standalone tool which can be useful if you want to create BPMN/DMN/CMMN diagrams with no access to the internet or if you want to prepare your processes for automation on Camunda platform.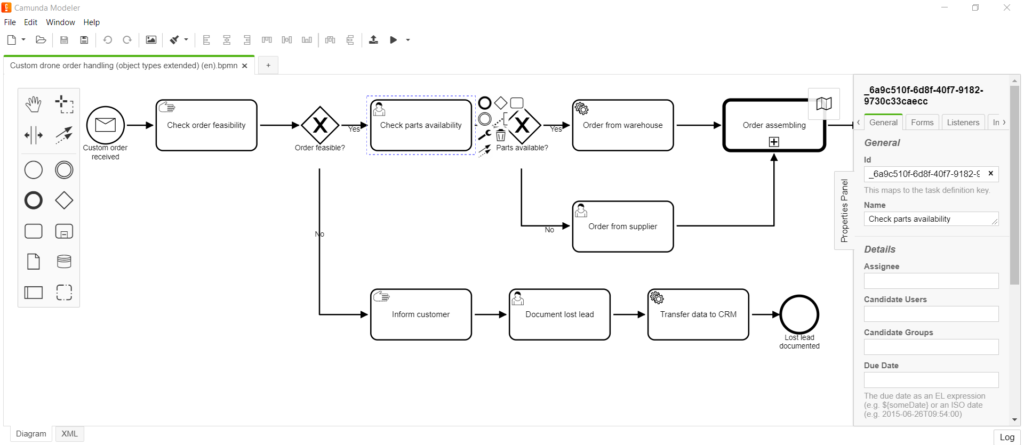 Cawemo
As the name suggests (CAmunda WEb MOdeller) this is a web modeller too. However while BPMN.io allows you to work on a single diagram and export it without storing anything permanently, Cawemo allows you to store your diagrams in a cloud repository, share them and collaborate with others.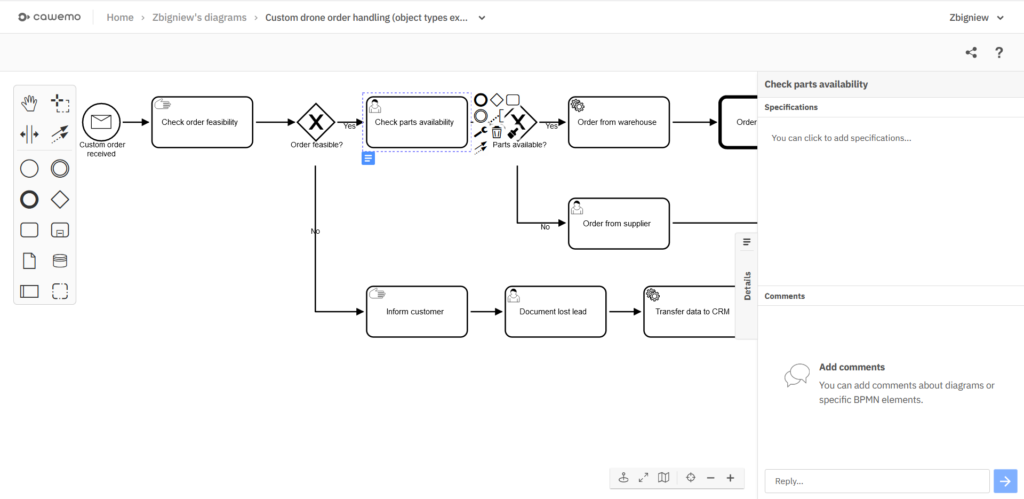 Apart from those tools there are also many others using Camunda code – for example for putting your diagrams on Confluence or showing results of Process Mining analysis on BPMN diagrams.
This is not a totally new tool – just a rebranding of BeePMN which you may remember from 2018 edition of this post. It is also present in BPMN MIWG demos since several years.
Free version of Cardanit allows you to create 5 BPMN and DMN diagrams with up to 30 elements, so this is a good option if you are just starting and do not need a big process architecture.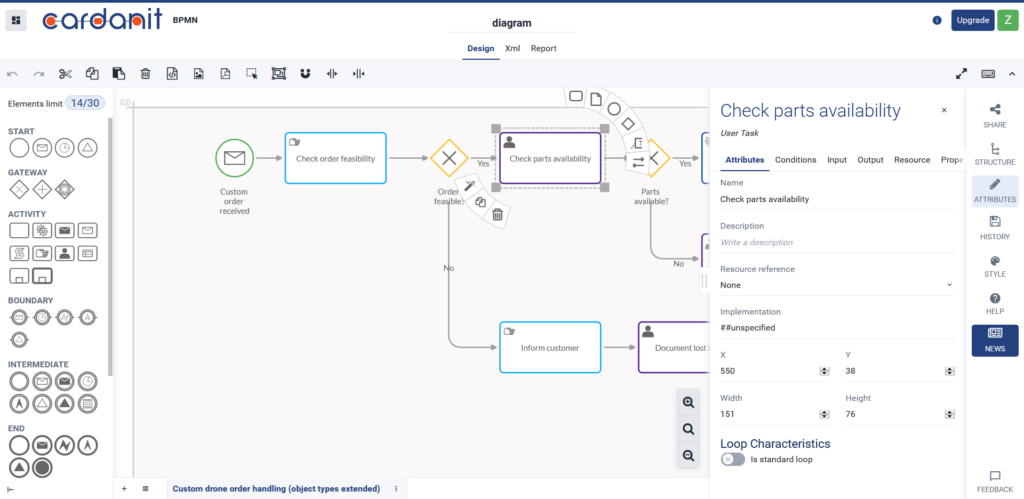 Honorable mentions
Apart from the tools described above there are also many other interesting tools. Below you can find an overview of the selected ones.
If you are using other free tools which support BPMN let me know in comments!
If you like to model your processes using EPC this is an interesting choice. Apart from EPC, it also allows you to create BPMN diagrams, Process landscapes, organizational charts, data models, IT infrastructure diagrams and more! This is a standalone (Java-based) application, so you do not need internet access to use it. Unlike professional version of ARIS, ARIS Express stores all your diagrams as files, so there are very limited options of creating more complex process documentation with connections between various layers of organization. Last update of ARIS Express was in 2017.
Browser based diagramming tool. It allows you to create many diagram types – including BPMN, but does not allow BPMN Diagram Interchange (it only has proprietary XML).